Pinkfong Wonderstar (Korean: 핑크퐁 원더스타) or Detectives Pinkfong and Hogi (Korean: 명탐정 핑크퐁과 호기) is a South Korean-American animated series produced by SmartStudy and Wonderstar Studios. The series started production in September 2017,[1][2] and the first episode aired in South Korea on June 27, 2019 on KBS2. It was made available to watch on the Pinkfong TV app the next day.[3] Prior to the series being produced, there was a film in development with the same premise.[4] The show features the alien fox Pinkfong and his friend Hogi as the main characters.[5]
Synopsis
Pinkfong crashes into the roof of a house, and in doing so, finds a best friend and problem-solving partner named Hogi. Pinkfong has the power to make wishes a reality, and Hogi has gained a lot of knowledge through reading. This inspires them to form 'Wonderstar', a problem-solving team that serves the townspeople of Wonderville - and beyond.
Pinkfong's adventures are completed by collecting badges nicknamed "friendship badges" and "friendship cubes" that are created whenever he helps his friends.
Characters
Other Characters
Myan • Coco • Rachel • Lila • Chumli • Jordi • Billy • Jojo
Baker • Barry • Pat • Frido • Sasha • Tani • Turtlepin
Nina • Quacki • Pokibot • Mango Bird • More characters
English Version
On March 31, 2020, an English dub of Pinkfong Wonderstar was announced by streaming company Astro on Facebook.[6] An official announcement by YouTube and Pinkfong further backed this up on November 18, 2020.[7] The first two episodes, Welcome to Wonderville and Runaway Cheese, were released on December 3, 2020, under the label as a YouTube Original. Dubs in other languages have been purported to be in production, though this has not been confirmed. After January 14, 2021, uploads went on an indefinite hiatus.
At the beginning of the episodes in the YouTube release, barring the first, there is a new intro sequence which shows Pinkfong and Hogi reflecting on the events that occurred in each episode. It intends to explain key lessons and morals to the viewer.[8]
The English and Korean versions are available on YouTube.
Second Season
Announced in the special The Exciting Story of Pinkfong and Hogi, a second season was in production. On August 20, 2020, further information about the second season, now called "Detectives Pinkfong and Hogi", (Korean: 명탐정 핑크퐁과 호기) was released. The season was scheduled to air on September 17th, but it got delayed to the 24th. The season airs on KBS1[9]and features new characters and stories.

Gallery
Click here to view this page's gallery.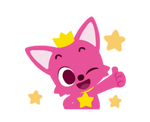 Videos
Main Videos and Promos
YouTube Episodes
Friendship Fix-It's redirect is currently broken. To watch it, click here.
References
Do not plagiarize this article.